The Do's (and Some Don'ts) of Purchasing a Chair Mat
By
Rachel Howe
on
Monday, September 14, 2020
Your work space should be comfortable. You've invested many hours in outfitting your office with furniture that suits your work habits so you can maximize your productivity. Don't stop there though. Take the extra time to select an office chair mat that ensures you'll have years of frustration-free maneuvering, all while protecting your floor.
Officechairs.com offers a wide selection of desk chair mats in a variety of styles from the following top-rated manufacturers.
ES Robbins Clear Plastic Chair Mats - Available in fourteen different sizes and shapes of ultra-clear textured vinyl with beveled edges to safely roll on and off the mat. They protect your floor while allowing the beauty of them to shine through.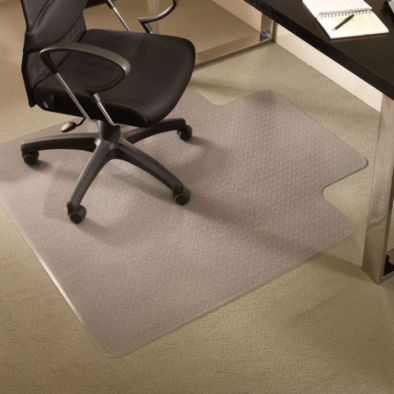 Deflecto Oriental-Inspired Chair Mats - Made of 100% recyclable vinyl in eighteen different sizes and designs, ranging from vibrant color palettes to tone-on-tone neutrals. A patented process prevents wearing of the pattern by continued rolling over time.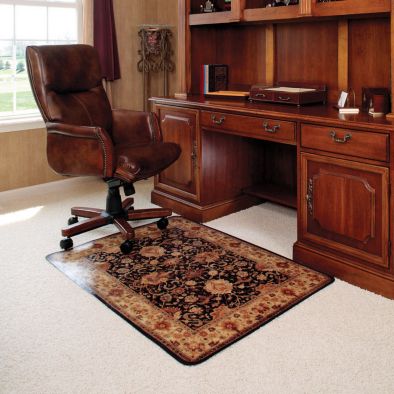 Anji Mountain Bamboo Chair Mats - Manufactured of natural bamboo in seven different shapes and thicknesses (5 mm or 12 mm). All are available in your choice of either a light or dark finish.
How Do You Find The Best-Fit Chair Mat For Your Office?
The guidelines listed below will help you find the ideal chair mat to complement the comfort and efficiency of your work space.
What Type Of Floor Do You Have?
Office chair mats are specifically designed for both carpeted and hard floors. If you have carpet, select a chair mat that grips on the underside to keep it safely anchored in place. That said, it's not quite as easy as that. Did you know that chair mats are designed for different thicknesses of carpet?
The Premium Plastic Chair Mat by ES Robbins is designed for high-pile carpet (greater than 5/8 inch thick) while their Plastic Chair Mat and Teardrop Shaped Chair Mat are designed for low-pile carpet (less than 5/8 inch thick). Deflecto's Oriental-Inspired Chair Mat utilizes a studded back to grip carpeted surfaces up to a maximum of 1/4 inch thick. Anji Mountains' Standard (5 mm) Bamboo Chair Mat has a non-slip, felt backing for use on carpets up to 1/4 inch thick while their Plush (12mm) Chair mat can be used on carpets up to 3/8 inch thick.
If you have hard floors, it's a bit simpler. ES Robbins, Deflecto and Anji Mountain all make chair mats with a smooth backing for use on wood, tile and laminate. They protect your floors while staying firmly in place.
What Size And Shape Do You Need?
Desk chair mats come in all shapes and sizes including rectangular, rectangular with a lip and even a clear plastic teardrop-shaped mat as manufactured by ES Robbins. If you have a traditional desk with drawers on both sides, then a mat with a lip would probably work best for you. For a corner work area, the clear plastic teardrop shaped mat may provide the most flexibility. Rectangular mats are best suited to work tables.
To find the mat size that best suits your office, roll around in your chair as you would normally do during the course of your day. Take into consideration any tables or file drawers that need to be within easy reach. Once you have determined your floor area, then measure this space. Yes, this is a bit nerdy but it works. Using these measurements, find the chair mat on Officechairs.com that most closely matches. Remember to round up so your mat is not undersized.
Clear plastic mats from ES Robbins are available in a range of sizes from 36"' x 48"' up to 66" x 60". Deflecto's oriental-inspired rectangular mats are available in three sizes (36" x 48", 45" x 53" and 46" x 60"). Bamboo mats from Anji Mountain come in sizes from 36" x 48" to 48" x 72".
Plan Ahead
Take a minute and think ahead to the very near future. Are you installing a new floor? Are you planning on purchasing a different desk? A larger office chair? Will you be rearranging your furniture or expanding your office? This might impact the type of chair mat that you purchase.
Need help in selecting the best-fit chair mat for your office? We're just a phone call or email away. Happy rolling!
0