Office Chair Exercises to Lose Holiday Weight
By
Rachel Howe
on
Thursday, November 10, 2016
The holidays are approaching quickly. We've already passed Halloween and ate ourselves to death with candy. Next up is Thanksgiving, Hanukkah and Christmas. To help shed some inevitable extra pounds gained during the holidays, we've compiled a list of some exercises you can do right from your office chair!
Leg Toners
It hasn't been until fairly recently that health professionals have been taking a look at the long term effects of sitting in an office chair for extended periods of time. With the increased level of sedentary workers nowadays, there is an increased risk of developing blood clots in your legs.
Leg toners are one of the easiest office chair exercises you can do, can help prevent blood clots from forming if performed regularly. The best of all, your co-workers will hardly notice you doing them at your desk!
While sitting, put your feet flat on the floor
Hold your abdominal muscles tight and slowly extend one leg until its level with your hip
Hold for 10 to 30 seconds
Slowly lower your leg
Repeat 15 times and then switch legs
Chair Squats
Chair squats are a great way to burn some calories at the office. While they're not very discrete, they can be done in a meeting room or office with a fair amount of ease for more privacy.
Stand tall keeping your back straight
Lower to 1 inch above your chair seat and hold for 10-30 seconds
Stand up
Repeat 5 to 10 times
The Stapler Curl
This fun office exercise tips comes courtesy of Greatist's list of 33 Smart Ways to Exercise at Work. To do this exercise, simply pick up your stapler in one hand with palm facing upwards and curl just like you would a dumbbell at the gym like our good friend Milton below. If your stapler is too light and easy, try a water bottle or something with a little more weight to it.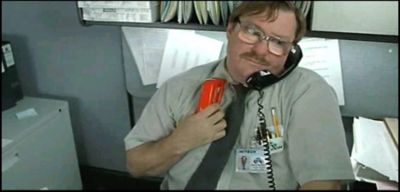 Want More Ideas?
These office chair exercises are only the tip of the iceberg! We recommend checking out the links below for even more office chair exercises.
Here's to a happy and healthy holiday season!
Sources:
http://www.kurufootwear.com/blog/2014/11/17/3-exercises-you-can-do-in-the-office-to-stave-off-the-holiday-pounds
http://greatist.com/fitness/deskercise-33-ways-exercise-work
0