How to Choose the Best Ergonomic Office Chair
By
Rachel Howe
on
Tuesday, August 23, 2016
Finding the right ergonomic office chair for you takes some time, but it's worth the effort to do a little research upfront before you buy an expensive chair that you have to return. Many of the popular chairs available on the market today only fit a select amount of people. There are many options available and the most popular chairs might not be the right fit for you. To find a chair that is specifically designed for your stature with the ergonomic features that support a good posture and comfortable seating experience, we've outlined some key things to look for.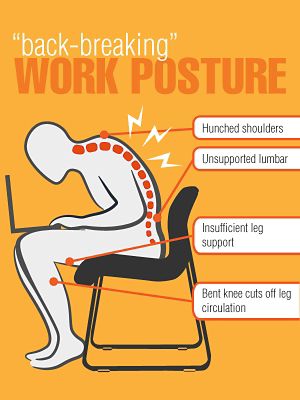 So what is an ergonomic-friendly chair? It's important to know that the definition of ergonomics is the study of people's efficiency in their working environment. In relation to your office chair, that means that as long as it's adjustable, it can be considered "ergonomic", however, there are chairs that offer more adjustable features than others that can offer a better seating experience.
Below, we've highlighted some of the ergonomic features you will find in an office chair:
Lumbar Support
Lumbar support is the support that is needed in your lower back. Office chairs that offer good lumbar support feature a back and seat that is contoured to fit your lower back to offer support to the muscles and spine.
When you find a chair with good lumbar support, your ears, shoulders and pelvis should be in alignment and it should feel natural ("How to Choose the Best Ergonomic Chair." The Human Solution. N.p., n.d. Web. 25 Mar. 2016.).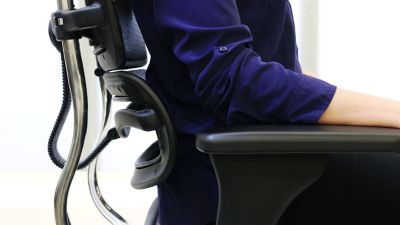 Seat Depth
Many office chairs feature a seat that can be adjusted forward or backward for optimal seat depth. When deciding on an office chair that works best for you, make sure that the seat pan is deep enough so that the back of your knees don't touch the seat. The seat should also be at least an inch or two wider than your hips.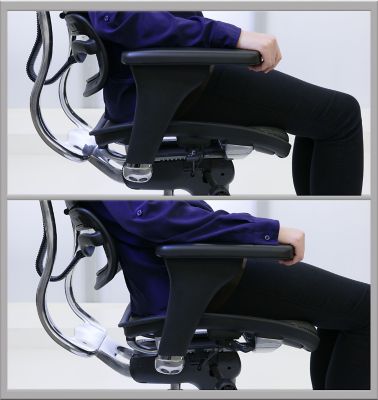 Seat Height
For optimal use, your chair's seat height should be adjusted so that your knees are slightly lower than your hips.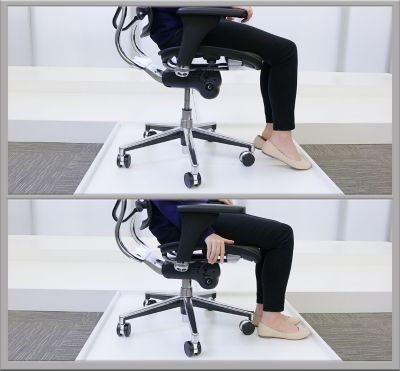 Armrests
Certain arm rests have the ability to move up and down, allowing you to adjust your armrest height to your level of comfort. The lowest point should come down or below your thighs, so as to not interfere with your elbow movement.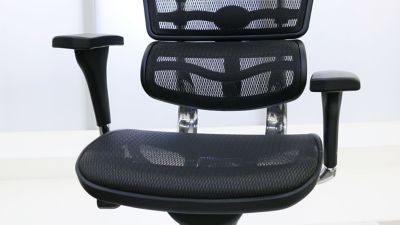 Reclining & Back Tension Control
Make sure when you're looking for a chair that you also consider the back tilt and tension control features. These features support the weight of your upper body and can provide some relief to your back when adjusted.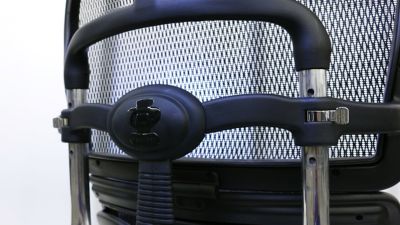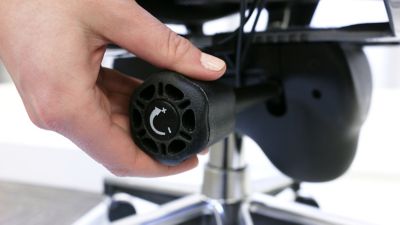 Sitting in a neutral, upright position is usually the best posture to have while sitting, which is slightly different than a study performed in 2006 suggesting that sitting in a reclined position with a 135 degree angle between your thighs and torso is the best position for your back (Lumo Body Tech, 2013).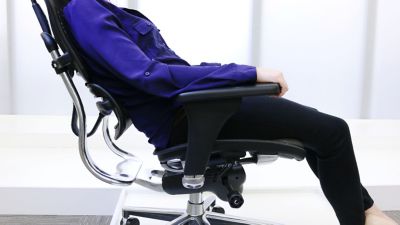 Headrest
A headrest isn't required for an office chair, but it can provide additional support and relief for taller individuals and those with neck problems.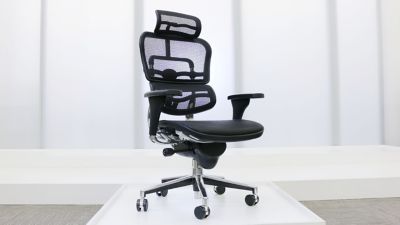 Below is one of our top ergonomic office chairs that has an abundance of ergonomic features and offers comparable comfort to the top of the line chairs available on the market today.
Executive Chair by Concept Seating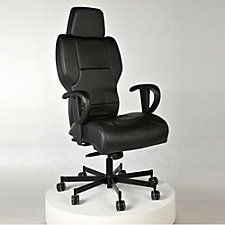 This chair can be used in any industry, but is a particularly smart choice for use in industries such as dispatch and call centers. This big and tall chair can withstand 24-hour use seven days a week and has a heavy-duty build with a 550 lb. weight capacity.
With a 10-gauge steel frame, this top-quality seating option maintains its original tensile strength and rigidity for years, all while encouraging proper posture in its users. Dymetrol suspension creates even surface pressure, minimizing strain on the user and allowing employees to sit comfortably for longer periods of time. Infinite adjustable lumbar support helps to relieve back pressure, while adjustable arm height and width can be positioned to accommodate each individual user. This high-quality chair has a unique seven-star base with safety casters which provide year after year of stability and its faux leather upholstery is supportive and soft to the touch.
Price: $1,659

Ergonomic Chair Adjustments from HON Nucleus
Office Chair Adjustments from HON Nucleus
Other Ergonomic Chair Resources:
Spine Health - Choosing the Right Ergonomic Office Chair
Download Our Work Right Ergonomic Seating Infographic: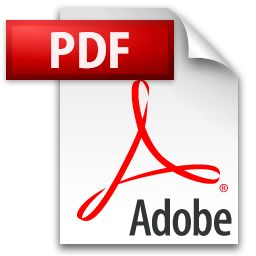 >> Download the Work Right Ergonomic Friendly Seating Infographic here <<
0