How long do office chairs last before they need to be replaced?
By
Rachel Howe
on
Thursday, August 16, 2018
Office Chairs come in a wide variety, so it's not fair to say that there is a set timeframe that each chair will last. Typically, the more expensive the chair, the longer it will last. However, that's not fair to say either since the way in which the chair is used and how frequently are two of the biggest factors to the longevity of any chair.
When it comes to determining how long your office chair will last, ask yourself these questions and then make your assessment:
How frequently will the chair be used?
How will the chair be used? Will it just be used by you, or will it be used by multiple people?
If the chair you're looking to purchase is just going to be used by you, then you have a larger selection to choose from. If the chair is going to be used by multiple people, then you will most likely want to look into purchasing a 24 hour chair to withstand the heavy usage so that your chair lasts longer.
Pictured below is one of our top of the line 24 hour chairs, the Intensive Use 24/7 Executive Chair by Concept Seating. This chair is great because it was built with prolonged use in mind. It's extremely strong and built for comfort -- which is what you want for a chair that is used for call centers and reception areas.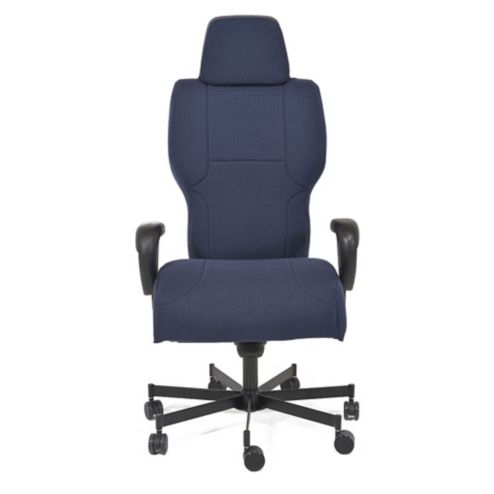 How will the chair be used?
Will you be using the chair every single say? Three times a week? Are you using it in the office all day or at home with occasional use? Below are some of the common uses for chairs, and the type of chair we recommend based on the use type.
Home office
If you work out of your home office for your full time job, you may want to consider a more expensive chair for longevity and comfortability. Start your search by browsing our selection of home office chairs here.
Gaming
Depending on your frequency of use, this varies from one person to another. With limited use, a quality chair can last for years. Heavy usage and cheaper material may require you replace this much sooner. Evaluate your usage compared to the norm and decide if a less expensive or more expensive chair makes more sense for you. We offer a small, but quality selection of gaming chairs that you can check out here.
Call center or dispatch
Dispatch and call centers are synonymous with heavy chair usage. For this reason, a cheaper chair may only last a year maximum, whereas a more expensive, but a quality 24 hour chair may last for several years.
Work office
If you work in an office setting, a chair that has ergonomic features like lumbar support and adjustable seat height is ideal so that you can be as comfortable as possible without affecting your health.
As you can see, the way you use your chair and how often you plan on using it, are two major factors that determine how often you will need to replace your chair. If you have any questions on your chair search, please don't hesitate to contact us!
0