A Guide to Chair Measurements: Seat Height, Back Height & More
By
Rachel Howe
on
Thursday, November 03, 2016
Health Precautions and Concerns
The spine is an important part of the body. But it's not everyday that we think about the health of our backs. The millions who go to work, who sit for long hours and labor in one place are in danger. Complications often come within that lifestyle if the chair you sit is unsupportive.
More than one in five people will experience severe back pain in their lives. Yet, every person will experience some form of back discomfort as a challenge in their work life. There's no need to aggravate the statistics, so choosing the right office chair to work in is a health measure you take that saves you trouble down the road. We have a whole selection of chairs that are meant for long sessions, head over to our 24 hour chairs to find one that fits you.
The only way to protect yourself from back complications is with a properly fitted chair with ergonomic support. Ergonomics is about creating efficiency in your comfort and not just comfort alone. It's the ease of it. We want you to have optimal comfort, so that spine issues don't become significant.
It all starts with the right education, a clear understanding and finding the safe options that you can simply enjoy. The considerations you make are in chair height, chair seat width, lumbar support, backrest configuration, material used, armrest and swivel. Begin here, and you're sure to find the office chair just right for you.
What Exactly is a Good Office Chair?
We all deserve to have the right office chair for our backs, and one we can enjoy all day if we so please. Research has tried answering the question of what a good chair is for you. The fact is, not every chair is equal. Age and lifestyle suggests that what works for a biker may not work for your grandmother.
But for you, your objective is to ensure that you don't miss days at work because of a sudden back injury or from ongoing discomfort left without mediation and care. The introduction of computer technology makes your need to sit immediate. A good office chair, therefore, lets you do work of this manner and without fatigue.
Finding what we consider a good office chair starts with considering your own physiology. Though there are basic necessities (as we'll cover in a moment) much of the specs that suggest the right chair is about you. Consider what type of work you do, your own height, weight and physical features.
You then want a variety of options to test once you understand the needs we've listed below.
Getting the Exact Measurement Right
Measuring the ideal proportions of a seat and for the purpose of comfort requires a few steps. It can start with actually measuring the person sitting in the seat. That's you, and you're unique by all means. Measuring in this manner is about by having the person in question sit. When seated, their feet must be supported by the ankles.
The knees should be supported by the hip. There needs to be a 90 degree bend at the waist the entire time. Normal or typical footwear for your office job is also worn for measurements. Have someone squat next to you to take a measurement. This helps with finding what would be an ideal chair seat depth for any person and size.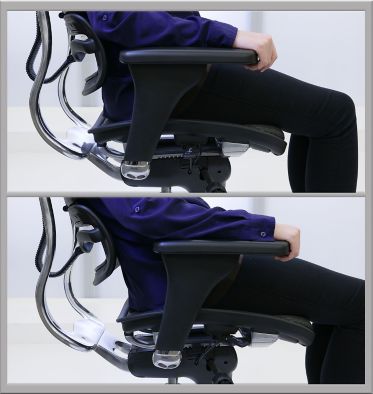 When you don't have the resources or time to go through this process, there are other steps you can take. These are basic, common sense steps too. When a seat is too high, your feet won't touch the ground. When a chair seat height is too low, your knees will be higher than your pelvis. You must make adjustments as needed.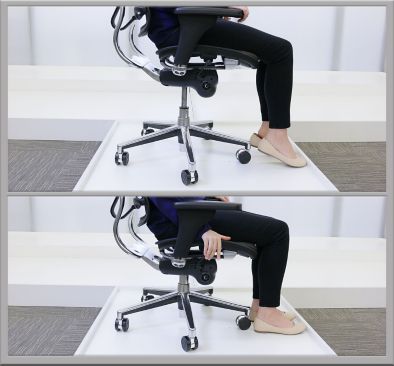 The Important Dimensions of A Good Chair
The basic measurements you need are chair seat height, width, chair seat depth and chair back height. Seat height usually dictates how much effort a person needs to actually get in and out of a chair. Seats that are too high lift your feet of the ground, and that's simply no good.
The lack of lower body support will cause serious discomfort over time. A seat that is low gives you problems in trying to get in and out of it. It, therefore, makes you vulnerable to strains. The pressure localizes at the hips negatively.
The height, however, is calculated when measuring up from the floor and then to the back of the knees. The chair seat width you need should be the width of your hips from left to right. Then you need a few more inches equally on both sides.
Depth is measured from behind the back of the knees. The chair back height should have great head support as it works with the rest of your body. And finally, the armrest must support the entire forearm. It should do this without you raising or dropping the shoulders is attempt for comfort.
Put these considerations together, and you'll be on track buying the office chair that improves your work, protects your back and keeps you healthy throughout life. If you're ready to start shopping for office chairs, taking a look at our selection of ergonomic chairs is a good place to start. If you still aren't sure, check out our top-rated chairs to find out which chairs our customers loved the most.