Featured Product: Essentials Gaming Chair
By
Rachel Howe
on
Thursday, January 26, 2017
Play in Style and Comfort
Is playing video games one of your favorite past times? Do you want to be comfortable while your competing with your friends or trying to beat your high score? Are you wondering how you can improve your posture or play comfortably? A gaming chair will support your head and your back for long hours of play time. They come in many different styles and can be custom fit for your individual needs. With a gaming chair, you can play up to eight hours in total comfort and be comfortable enough to win your next victory with ease.
Why Choose A Gaming Chair?
Thousands of people around the world are opting for a relaxed chair that has high end features that will maximize their entertainment and comfort. For that reason, we make high back gaming chairs to make your experience on a PC or gaming console comfortable. There are many chairs on the market, but OfficeChairs.com helps you take the guesswork out of finding a reliable and comfortable chair, for far less than the competitors.
What Should You Look For In a Gaming Chair?
Durability
You should look for chairs that are made with the finest material. A quality constructed chair can become a mainstay in your home. You want a chair that is designed to withstand the occasional bumps and spills that will occur while your playing your favorite game. You should always avoid a flimsy chair that won't help you improve your entertainment experience or posture.
Comfort
Being comfortable on your chair can improve your health and aid in maintaining your body. You want a chair that will support you throughout its lifespan. Sitting for an extended period of time requires a unique design that supports your body, preventing torque on your neck, back, and wrists.
Price
A quality chair should be affordable and allow you to get great features. An expensive chair doesn't mean that you'll get anything outside of the amenities that come with a standard priced chair. Look for a good chair that meets your needs, at a great price.
The Essentials Gaming Chair provides a high back and superior faux leather material that's designed with a race car style and an executive look and feel. Enjoy high performance comfort along with contoured, ultra plush padding, headrest, and lumbar support. The thick padding will give you additional body support. Enjoy a gaming chair that immerses you in luxury and style. It comes at a great price and makes a reliable chair for your home or office. You can work or play your favorite games in style.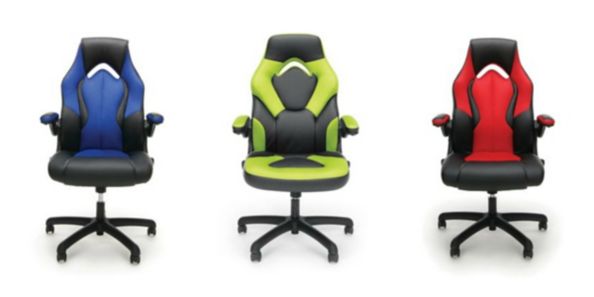 Additional Features:
360 degree swivel
Tension control (locked)
Height adjustment
BIFMA tested and approved
If you're looking for more chair options, you're invited to explore our website and find additional chair styles. We offer free shipping on all of our products and have special promotions going on all the time!
0