Differences Between Soft & Hard Chair Casters
By
Rachel Howe
on
Tuesday, September 15, 2015
Have you been wondering, or looking for information on the differences between soft and hard chair casters? Most chairs come with the standard hard casters that are for carpeted floors, however, there are many cases where a chair is used on wood floors or plastic chair mats where a soft caster is a better choice.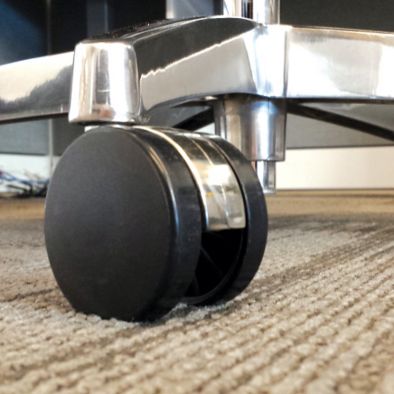 Below we've highlighted the use case and benefits of each and answered some common questions that arise when it comes to purchasing replacement casters with OfficeChairs.com.
What Are the Differences Between Soft and Hard Casters?
Soft casters are softer than hard casters - more like a roller skate wheel rather than hard plastic - and prevent rolling out from under you and marring the floor. They're made for better use on hard flooring like wood or when a plastic chair mat is being used.
Some places call them soft casters since they are softer than standard plastic casters and some people call them hard floor casters since they are made for that type of surface. They mean the same thing, but have different phrasing. Many people buy soft chair casters to protect their floors and save money instead of buying a chair mat.
An example of casters for hard floors are these casters from OFM on OfficeFurniture.com.
How Do I Get Soft Casters?
Soft casters are often specific to the chair you're buying. To get soft casters with OfficeChairs.com, you have to make a special request because most chairs come standard with hard casters. Soft casters have to be requested from the chair manufacturer, so keep that in mind it will take a little bit of time to be delivered if you already purchased your chair.
Do Soft Casters Cost More?
Yes, soft casters do typically have an upcharge (you still would get the standard casters, as well as the soft casters if purchased are additional cost).
If you are looking to replace your chair casters, or have any general questions, feel free to give our customer service team a call at 1-800-242-7200 and we'd be happy to assist!
0