What are the Differences Between Real, Bonded and Faux Leather?
By
Rachel Howe
on
Thursday, August 30, 2018
Looking to buy a leather desk chair and don't know where to start? What if you're having questions like what are the differences between real leather, bonded leather and faux leather chairs and sofas?
When deciding whether or not to purchase a genuine leather chair or sofa versus a faux leather one, how do you decide? It's easier to make that decision when you know what exactly each is comprised of and how they vary. Below, we've outlined what each are and the differences between them to help you make an informed buying decision.

Let's start at the top – top-grain leather, that is.
What is top grain leather?
Top grain leather, or "real leather", is the most common type of real leather used in higher-end leather upholstered items. It has had the "split" part of the hide removed (that's the layer that would show any natural imperfections or hide marks. In full-grain leathers, that top layer is left on). The resulting hide is sanded to create an even, smooth texture; any dyes are added; then a finish coat is applied that helps it resist stains. This premium cover material offers the best feel and comfort along with the best color depth. These high quality chairs make long sessions in them easy, check out our 24 Hour Leather chairs for durability and comfort.
Pictured below is an example of one of our real leather chairs, our La-Z Boy Revere Big and Tall Genuine Leather Chair: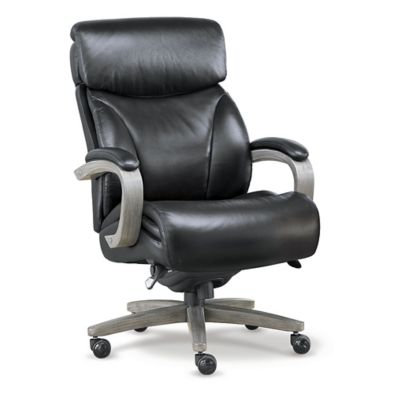 Top grain leather is usually either Cow Top or Buffalo Top. The Cow Top is thinner and more flexible, resulting in a more supple feel. Buffalo leather grain is more pronounced, and the fibers are thicker and more widely-spaced. It's also less expensive than Cow Top. This explains how some items are made in "real leather" but at a somewhat lower price….it could be Buffalo Leather.
Ok, Time to Split!
Split leather is made from the layer of hide that is left once the top-grain portion has been separated off. Hides are sort of shaved horizontally into different layers, so a tannery gets several sheets of leather product from just one hide. The split portion of the hide has an artificial layer applied to it which is then embossed with a 'grain' to simulate the look of Top-grain. It's still leather, made from a real hide, however its cost drops even further, so it also is often found on very affordably-priced items that say "real leather".
How can you tell if something is real leather? On all real leathers, the back will be suede. If you can get a sample of the material and feel the back of it, you will know (although, read bonded leather below). At OfficeChairs.com, our sales staff sends hundreds of real color swatches every year of any upholstery our customers are considering so they can touch it and see it before they buy it.

What is bonded leather?
Bonded Leather is neither fish nor fowl, as they say. It starts out with real leather scraps – the leftover pieces that would normally become waste from tanneries. These are sent to a mill that grinds them into very small pieces. These pieces are then spray glued onto the back of a man-made material like PU. These ground leather bits make the back of the material feel like suede, and this backing can also have an effect on how the material "feels" and upholsters. When a bonded leather is made with a good PU material, it can be difficult to tell the difference between it and real leather.
To get a close up of what a bonded leather chair looks like, pictured below is our Shepard Bonded Leather Chair by Boss Seating: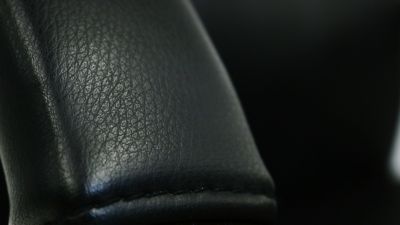 Bonded Leather is far less expensive than real leather but because of its real leather content, marketers can use the word "leather" in their descriptive materials. Some call it recycled leather or eco-friendly leather because the manufacturing process is more environmentally-friendly than leather production, which uses several harsh chemicals. But is it leather or not? You decide. Call us or click the link below, we'll send you a sample.

What is faux leather?
Faux leather, or Polyurethane (PU), is a man-made material will represent the look and feel of genuine leather. It can be embossed with any texture, is water resistant, and easily cleaned and maintained. It offers a great value for lower priced items. Very nice quality PU can feel very soft and look like real leather. It can really fool you sometimes. To tell the difference, you look at the back of the material: if you see a woven fabric backing, it's PU (or vinyl). Some call PU "synthetic leather". At OfficeChairs.com, we use the term faux leather when the material is PU.
Pictured below is one of our faux leather chairs, the Kingston Faux Leather Executive Chair: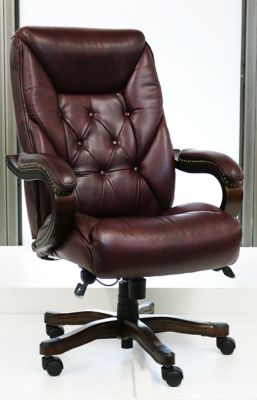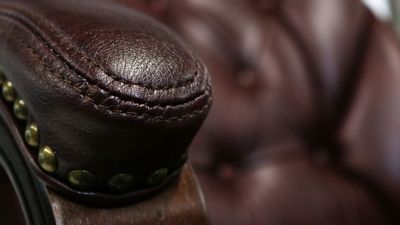 We hope this helps you better understand the differences between real, bonded and faux leather to help you make your next leather chair or sofa purchase. If you have any questions, feel free to call our chair experts at 1-800-242-7200.

Shop Leather Chairs
Ready to start shopping? Shop OfficeChairs.com's selection of leather chairs here. Interested in requesting a sample? Request a sample here.
0