Bonded Leather: What It Is & How To Take Care Of It
By
Rachel Howe
on
Monday, June 15, 2020
Looking to buy a leather office chair but not sure what type of leather or how to take care of it? The term bonded leather comes up many times when you are furniture shopping, but do you know what it means? How does it compare to genuine leather? This article will explain the differences and how to care for bonded leather.
Along with bonded leather, there's several other forms of long-lasting synthetic leather that can keep your office looking great and easy-to-clean. Shop our variety of bonded, polyurethane, and faux leather today.
What is bonded leather?
Bonded leather is made from the scraps of genuine leather that would otherwise be thrown away. These scraps are ground together that are adhered to a sheet of fibrous backing. The whole sheet is then coated with a polyurethane sealant and stamped to replicate the pattern of the grain. These sheets are much easier to handle than the raw animal leather.
You will find bonded leather under many names such as blended leather and reconstituted leather. All of these materials can contain as little as 20% real leather and still be classified as a leather product. Any less than 20% falls under the title of faux leather. This means it is essentially vinyl. Check out our blog post on the differences between real, bonded and faux leather to find more detailed information.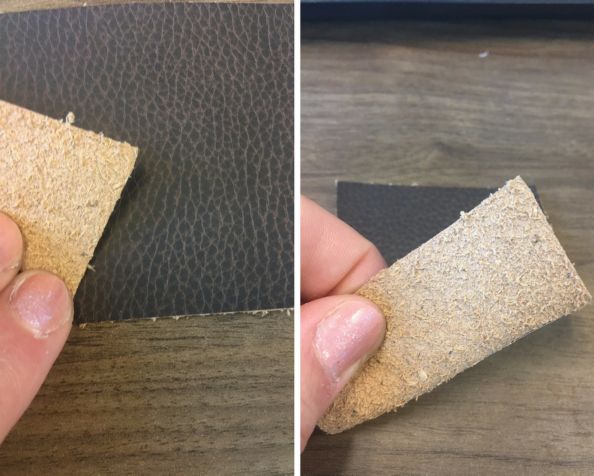 Does bonded leather peel?
The short answer is yes, bonded leather will eventually peel with use. This is an unfortunate fact of bonded leather. If temperature is a deciding factor for your leather chair purchase, browse our selection of leather mesh chairs for style & breathability.
The longer answer is yes, because of the structure of the material. It is not a solid surface and with use, the bonding will fail. When the material is stretched, the pieces of leather will begin to separate, causing the unsightly peeling. Bonded leather peeling effect is the result of the tiny pieces of leather being pulled free of the backing and flaking off.
How to help prevent bonded leather from peeling:
Use leather conditioner regularly
If peeling starts, try using a leather repair kit (also known as leather filler)
How long does bonded leather last?
Due to the shredding process, bonded leather is less durable than genuine leather. A sheet of bonded leather is one perpetual length of tiny scraps meshed together, and therefore not creating a solid surface. Problems arise after continuous usage. Body oils will stain the surface and compromise the bonding. Dirt and grit will act as an abrasive and will also shorten the life of your bonded leather.
Different circumstances will determine the lifespan of your bonded leather couch. If you have children and pets using the furniture regularly, it will not last as long as a couch kept as guest seating. With proper care and gentle use, a bonded leather couch can last as long as two to three years without issues.
Bonded leather care: how to clean bonded leather
To ensure you get the most life out of your furniture, regular care is a must. Never use any harsh chemicals on bonded leather. They will strip the clear coating from the material. Use a soft, damp cloth to wipe any debris from between cushions and to remove body oils and dirt. If the sofa is used heavily, you should thoroughly clean it at least once a week. Use a leather conditioner to help protect and preserve the surface.
Never place your bonded leather in direct sunlight. This will cause fading and weakening of the material. The same rule applies to heating vents or fireplaces. The heat will dry the leather and promote peeling. Bonded leather is susceptible to staining, so clean any spills immediately.
Bonded leather care tips - how to keep bonded leather from peeling:
Clean often to remove body oils and dirt
Don't use harsh chemicals
Use leather conditioner to help protect and preserve the surface
Don't place your leather furniture in direct sunlight
Bonded leather vs genuine leather
Economically speaking, a blended leather couch is ideal for those just starting out and furnishing a new home on a budget. Born from the adage "Waste not want not", the bonded furniture is less expensive than genuine leather and still adds a touch of style to a home.
The bad news is that it will not last nearly as long as real leather. It is not recommended to anyone with respiratory issues since the poly coating of poor quality material can give off chemical fumes.
Bonded leather is extremely difficult to repair. If you do try to repair peeling, understand that peeling will still continue around the patch. Once the bonded material starts to break down, it will continue in spite of any repairs you attempt. It will be easier and cheaper to simply part ways with your bonded leather and buy a new sofa.
In the debate of bonded leather vs real leather, the real leather will win every time. Genuine leather is made from one solid piece of animal hide. It will not separate with heavy usage and will develop a patina that gives it that unique shine. Genuine leather will also adjust to body and room temperatures allowing it to breathe and stretch with usage.
Real leather will last for many years depending on how much activity it sees. In the event it gets a tear, genuine leather is easy to repair yourself. There are plenty of repair kits available at your corner hardware store.
To sum up, for quality and longevity, genuine leather is the best choice, but for a more budget-friendly option, bonded leather is the way to go. We have real, bonded and faux leather chairs and seating options to appeal whatever your needs and interests are. Interested in taking a look? Start by shopping leather chairs here, or requesting a sample by clicking the button below.

0