Best Ergonomic Office Chairs for Smaller Frames
By
Rachel Howe
on
Thursday, October 27, 2016
Have you been looking for an office chair, but have become frustrated because you can't seem to find one that fits you quite right? You're not alone. Those who have a smaller frame don't find most standard computer chairs comfortable. Oversized chair backs and seat heights are the top reasons to blame for discomfort. People who have a shorter stature benefit from using a petite chair, which include features like a shorter chair height, chair backs and seat pans that fit their body type more comfortably.
You can find petite ergonomic chair options in task chairs, leather chairs, and many other styles. Petite ergonomic chairs like our Demi Petite Faux Leather Quilted Task Chair come in both a standard height and petite height option.
Another popular petite ergonomic chair is our Petite Computer Chair from the Status Collection by NBF Signature Series. This chair features a comfy memory foam seat and a lower chair height. It features ergonomic adjustments like an adjustable lumbar dial to provide additional back support, adjustable arm width and height, adjustable seat height and tension, synchro-tilt and tilt lock adjustments.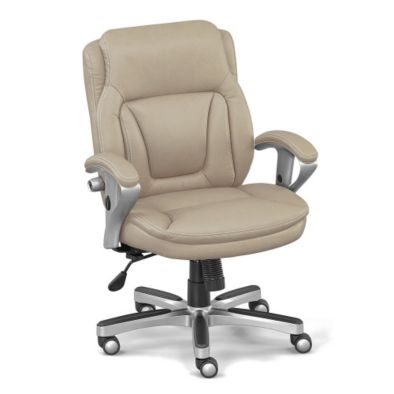 In summary, finding the right chair to fit your body type is important, especially if you sit in your chair for hours at a time. To shop our selection of petite office chairs, visit here. If you have any questions, feel free to call our chair experts at 1-800-242-7200 and we'd be happy to assist!
0