Best Desk Chairs for Tall People: What to Look For
By
Rachel Howe
on
Thursday, September 21, 2017
Tall people face challenges that most people don't have to when it comes to their office chair. These types of users need deeper seats and taller chair backs to accommodate their needs for a comfortable seating experience.
Big and tall office chairs can be found in just as many styles as any other computer chair, whether you're looking for something in leather, fabric, or mesh. Below we're going to break down two of the most common questions when choosing the best desk chair for tall people.
What height does someone have to be to purchase a big and tall chair?
There is no set height, but typically those who are 6'2" and over would benefit from using a big and tall office chair. Big and tall chairs are made with taller chair backs and adjustable seat pans that make it easier for a person with a taller stature to find a chair that fits their needs.
What seat depth should they look for?
People who are taller have longer legs, therefore, they typically find the seat depth on standard chairs to be an issue. In order to address that issue, people with a taller stature should look for a seat depth that is 20" or more. This will allow those with a taller frame to sit more comfortably without feeling like their knees are too far from their chair. Finding the perfect big & tall chair may be difficult, but our consumers make it easier. Head over to our best selling & top-rated big and tall chairs!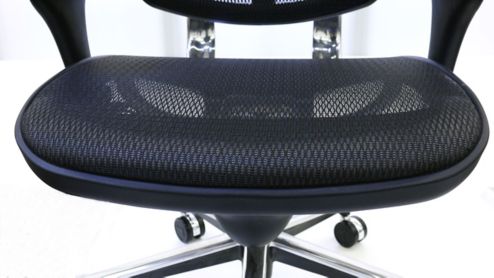 In summary, finding a chair that fits you is important, especially if you spend long periods of time in it. Don't waste money on a chair you'll soon end up replacing because you didn't do your homework! At OfficeChairs.com, we're here to help you make your next chair purchase easier. To shop our selection of big and tall chairs, visit here, or give us a call at 1-800-242-7200 and we'd be happy to help.
0