What's the Best Office Chair for People who Like to Lean Back?
By
Rachel Howe
on
Thursday, March 29, 2018
If you're the type of person that tends to lean back in their office chair, then we have some tips for you on what features you should look for when purchasing your chair so that you can tilt away!
Tilt With Adjustable Tilt Tension
These two adjustable chair functions are typically listed as two separate functions (tilt + tilt tension). Most computer chairs and executive chairs feature each of these, however, where they're located can be slightly different for each chair.
With that, let's talk a little bit more about what each of these features do. Tilt is what allows you to recline the backrest as far as you set it to, while tilt tension is the big knob you'll typically see on the bottom front of the chair seat that allows you to set the amount of force required to allow the chair to rock.
Syncro Tilt
Most computer chairs offer this feature as well. A good way to remember what this feature does is to think of it in a 2-to-1 ratio: the backrest reclines twice as fast as the seat cushion.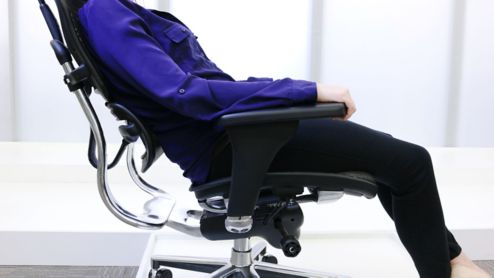 Each of these functions are what you want to look for when purchasing your chair so that you lean comfortably in your chair while you work. If you still aren't sure about how to go about picking the perfect chair for you, browse what other consumers have already loved. Head over to our best-sellers & top-rated sections to find chairs that others have tested & approved.
To learn even more about some of the common chair features related to these, check out a great source we used for this post with more information here.
0