Are Ergonomic Office Chairs Better Than Normal Chairs?
By
Rachel Howe
on
Thursday, August 02, 2018
If by normal chair, we mean a chair that has limited ergonomic features, then the simple answer to this question is yes. Ergonomic chairs, or chairs that feature multiple ergonomic adjustments, provide all kinds of added support and the adjustments we need to sit comfortably in our chair. This helps to avoid back and neck issues that may come from sitting in "normal" chairs.
Let's talk about some of the ergonomic features that make ergonomic chairs ergonomic below:
Lumbar Support
The lumbar support feature of an office chair gives your lower back the proper support that it needs and prevents slouching. Ideally you want to find an office chair that has this feature if you are going to be sitting in it frequently throughout the day.
Adjustable Seat Height
The seat height adjustment feature of a chair is pretty self explanatory - it adjusts the height of your chair's seat. Depending on how your office chair fits you, you may or may not need to adjust your chair seat to fit your needs. Keep in mind when adjusting your seat height, that your feet should be touching the ground.
Adjustable Back Height
Back height adjustments allow you to adjust the back of your computer chair to the right height so that you get the proper lumbar support that you need.
Adjustable Armrests
Adjustable armrests allow you to move your armrest either up or down or side to side. This can be helpful when the current way the arms are set up aren't right where you want or need them to be. Be careful when shopping around. Many ergonomic chairs have adjustable armrests, however, some only one of the two features instead of both.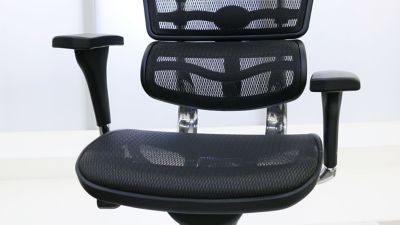 Seat Depth
Being able to adjust the seat depth of a chair will allow you to sit comfortably. You know it will feel comfortable when you have enough room to sit on the seat completely and the back of your knees rest comfortably against the edge of the seat.
All of these office chair ergonomic adjustments can be a lot to take in and consider. A good first step is deciding what is a must-have for you and sticking to a budget that allows you to get the features you're looking for.
For even more resources on ergonomic chair adjustments, check out these other resources from our blog:
0